Latest News
Beer Memorial Avenue is nearing completion
---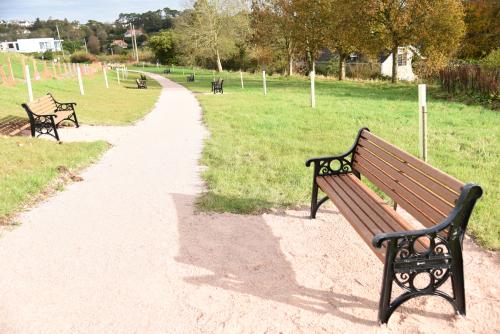 The Beer Memorial Avenue is nearing completion at last!  The project to create an avenue of 30 small-leaved lime trees to commemorate all the residents of Beer who served in the First World War was conceived in late 2017, with the aim of completing it in time for the centenary of the 1918 Armistice.  However, a string of bureaucratic and other delays prevented a start being made until the autumn of 2019. 
When work finally began in October 2019, funded by the Heritage Lottery Fund and local fundraising, progress was hindered by atrocious weather.  The wettest winter weather for a century or so brought a halt to the work before the path through the Avenue could be completed or the benches installed, and the Lottery were very helpful in allowing us an extension of the initial project completion deadline of the end of February 2020.  Other problems then intervened, culminating in the lockdown due to the pandemic, starting in March.
We have now completed the path and installed the benches plus the posts for the post-and-rope fence which will surround the whole site. The final  stages will involve installing oak posts which will support the plaques displaying details of those who died, and a list of all those who served and returned.  We hope to be able to complete these final tasks by the end of February 2021.
---